October 8, 2018 7:55 am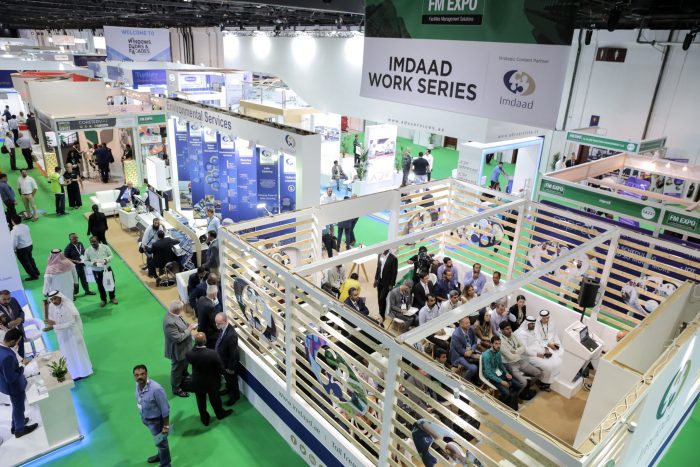 Experts, businesses, and students attended 'Imdaad Work Series,' which explored emerging trends in the region's FM industry
Dubai, UAE – 08 October 2018: Imdaad, a Dubai-based group of companies that provides integrated and sustainable facilities management (FM) services that enhance operational efficiencies of physical assets, has successfully participated in the 2018 edition of FM Expo, the Middle East's premier event for the FM industry, as a Strategic Content Partner.
Reiterating its commitment to promoting the sustainable development of the industry, the company hosted the second edition of 'Imdaad Work Series' at the event held from 23-25 September at Dubai World Trade Centre.
Showcasing the latest innovations, such as Computer Assisted FM (CAFM), exploring emerging trends in the industry, and discussing the future of energy management in the Middle East, Imdaad Work Series attracted experts, professionals, and businesses from across the diverse FM disciplines.
Students from universities and schools in the UAE, including Dubai Technical College and Dubai International Academy, attended a workshop titled 'Be'ati,' as part of Imdaad's program to teach the nation's next generation the need for waste segregation and recycling as a vital component of environmental sustainability. The workshop, held as part of Imdaad Work Series, provided them with a deeper understanding of healthy waste and recycling practices.
In addition, Imdaad showcased its comprehensive range of integrated facilities management solutions, which include Hard FM, Soft FM, as well as environmental services such as solid waste and wastewater management, at its stand at FM Expo. The company also highlighted its Isnaad division that offers manpower supply services, and Imtedaad, which provides real-time insights into the performance and trends of interconnected assets and ecosystems to offer recommendations for predictive maintenance and corrective actions.
Mr. Jamal Abdulla Lootah, Group CEO of Imdaad, said: "As cities and communities continue to grow and evolve at a remarkable pace, the facilities management industry is poised for strong growth over the next five years, with the global market size projected to reach $59.33 billion by 2023.[1] Rising economic pressures from environment and regulatory requirements and the increased adoption of new technologies for building automation will remain key drivers of demand for integrated FM services. However, it is imperative for the industry to explore emerging trends in technology and consumer needs to stay relevant and sustain its growth."
"We are pleased to have sponsored and participated at FM Expo 2018, which provided industry stakeholders with a platform to connect with their partners and customers, and exchange knowledge and ideas that will inform new solutions and services in the region's thriving FM sector. Similarly, we are proud that the second edition of Imdaad Work Series at the event was a resounding success as it offered new insights that will contribute to greater efforts towards future-proofing the FM industry. In addition, we are glad we included our special Be'ati workshop this year, which plays an important role in educating college and school students about the importance of this industry," Mr. Lootah added.
About Imdaad:
Imdaad is a Dubai-based group of companies that provides integrated, sustainable facilities management services that enhance operational efficiencies of physical assets. Established in 2007 by the Investment Corporation of Dubai (ICD), the company is headquartered in Dubai with site offices and branches across the UAE, including Abu Dhabi. Imdaad's suite of complete turnkey solutions includes Integrated FM, Hard FM, and Home-Pro, as well as Environmental Services such as solid waste and wastewater management and power rentals. In addition, Imdaad's intelligent platform for facilities management, Imtedaad, provides real-time insights on the performance and trends of interconnected assets and ecosystems to offer recommendations for predictive maintenance and corrective actions. Owing to its personalized business model that is based on providing cost-effective and sustainable services, Imdaad has grown to become the partner of choice for customers within the UAE and across the GCC. The company's multi-cultural workforce comprises more than 6,000 skilled employees, representing 30 nationalities. For more information please visit: www.imdaad.ae

---
[1] https://www.prnewswire.com/news-releases/facility-management-market—global-forecast-to-2023-300658085.html
Back to list