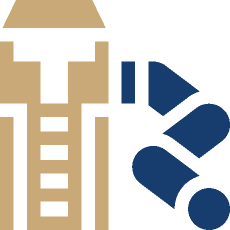 Our Leisure & Hospitality Clients never rest, and they need a Facility Management company that can match this commitment as well as providing a wide and varied range of services. Imdaad's ability to provide services ranging from MEP, lift installation and maintenance alongside soft services like renovation and painting make us the provider of choice for the sector.
We are also able to help with staffing, another major requirement for hospitality clients. Through Isnaad, our manpower supply and soft services division, we can provide receptionists, concierges, housekeepers and security staff, making sure that our clients are able to guarantee an excellent experience for their customers. Isnaad also offers painting, garden care and swimming pool maintenance, ensuring operational excellence and protecting asset values.
Our Fire Safety division, Vision Safety, offers both fire safety services and also fire risk assessments, critical for hotels and other clients that accommodate large numbers of people. Combined with our detailed preventative maintenance, Imdaad works hard to make sure that our clients' security is prioritised.
Most facilities within this sector have lifts and escalators indoors as well as large car parks. Through Nigma, Imdaad offers an array of options including the installation and maintenance of lifts, CCTV, security barriers and more. This provides a level of convenience for the client who only needs to coordinate with one supplier in order to manage their entire facility!
See All Our Solutions